Precision-Crafted Haircuts
Craft Cuts is a full-service modern barber shop dedicated to consistently providing precision – crafted services specialized for those with short hair. Our highly trained Barbers and Stylists will provide quality services and products in an enjoyable relaxing atmosphere for all to experience at a affordable price. We offer our clients with a complimenting wide range of services that include: Precision-crafted haircuts, traditional straight razor shaves, haircut and shave package deals, color and more!"
Every service provided by our highly trained professional Barbers!!
Craft Cuts Barbershop was founded by owner Shannon Ruiz after spending 15 years in the hair and barber industry, 5 years of that locally in Brevard County. After searching for a location for a few years in Brevard County, Shannon finally found her home in Rockledge FL. She spent three weeks renovating with the help of family and friends. Now we are very proud to be apart of the rockledge/viera community. We continue to grow and enjoy meeting new customers. Thank you for all your support over the past 3 years and we cant wait for more!
Check out our New list of Services and new booking Software!! Be sure you book the right type of haircut that suits your needs in order for us to give you the best service possible. Don't forget your beard or shave you can add that to your haircut as well. If you aren't sure what to book give us a call we would love to help you figure it out (321)338-2480.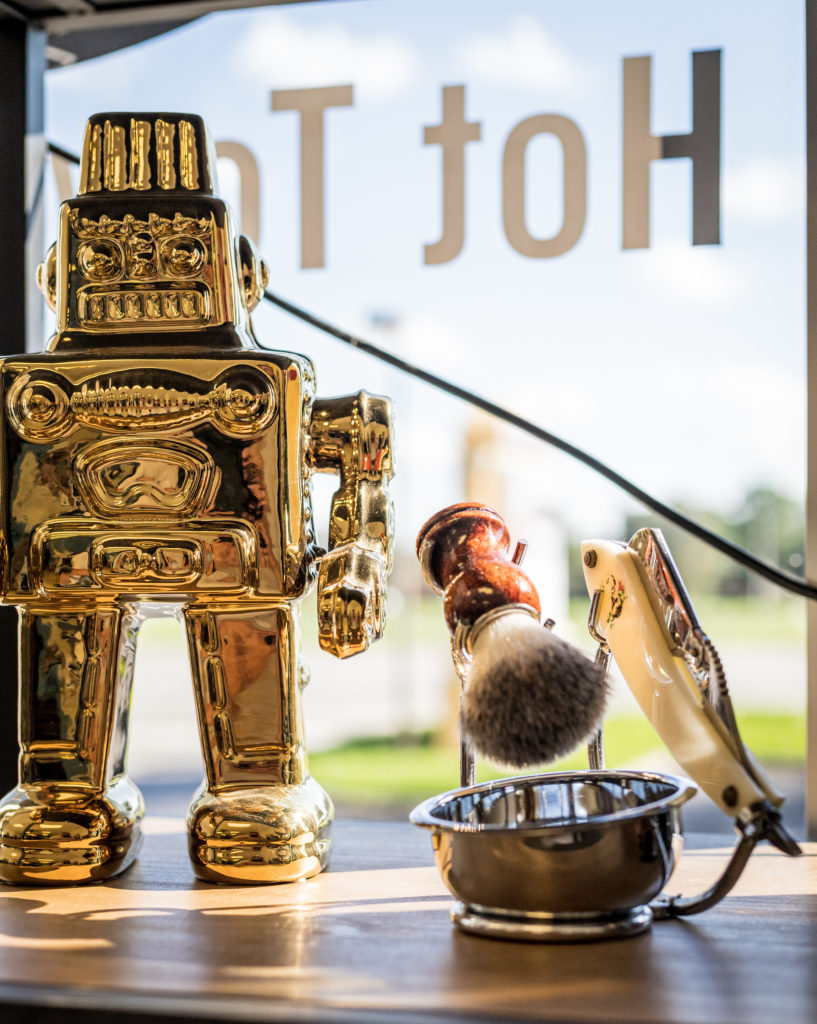 Basic Cut
Our basic haircut is a scissor trim or clipper/scissor cut #2 guard and up. Please note that this cut does not include tapered edges. Also enjoy a Razor Neck Shave, Hot Steam Towel & Style. (30 Min Service)
Craft Cut Fade
Not your basic haircut this is our Precision Craft Cut Fade. If you want that Instagram worthy fade with a Clipper/Taper Fade from a #1/2 to #0 this is the cut for you. Also enjoy a Razor Neck Shave, Relaxing Hot Steam Towel & Style. (45 min Service)
Razor Fade
If you like a bald fade this cut will make you feel ultra smooth! Our barbers will give you a precision crafted low, mid or high fade from #0 to skin. This fade includes a Razor shave with hot steam towel, & Style. ( 1 hr Service)
Master Cut
A Master cut is a transformation cut removing 2 or more inches. Our barbers will create a precision crafted cut to suit your needs. This service is for specialty cuts and styles including complex advanced haircuts. This service includes a traditional straight razor neck shave, relaxing shampoo, hot steam towel & style. (1hr 15min Service)
Kid Cut (10 & under)
*Price is dependent on difficulty of haircut picked, bald fades and designs are extra.
Beard Trim
Beard trim ($10 and up) Prices may vary depending on length and difficulty of beard trim
Beard Fade
Complex shaped beard trim fading down to skin including a hot towel shave.
Trimmer Shave
Full facial shave with trimmers only – No Razor or Hot Towel (15 min Service)
 Razor Line Up
Need a quick neck trim this is just the edges, clean and smooth with a razor finish. (15 min Service)
Hot Towel Shave
An old fashioned hot towel shave with foam lather and hot steam towel. (30 min Service)
Ultimate Shave
Our Ultimate Shave is a straight razor shave with hot steam and foam lather. Next we do a facial massage with a cooling mask and towel to leave your skin smooth. Then we use moisturizer and aftershave to keep you smelling and feeling great. (1 hr Service)